There is no shortage of great restaurants in this stunning part of the Australia, so we've put together a list of the top 10 restaurants on Magnetic Island.
Italian, Indian, Asian, pub meals and lots of healthy options are all available. Freshly caught fish and seafood is a staple for many menus. You will be spoilt for choice at these top 10 restaurants on Magnetic Island!
Here are the top 10 restaurants on Magnetic Island to satisfy any appetite: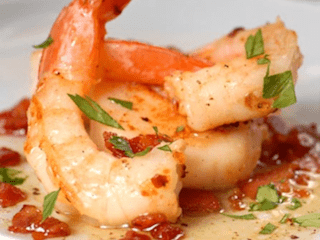 The Early Bird
Ideal for a lazy breakfast. Some of the best coffee on the island is here – and great French toast. Located right on the beachfront, the menu is seasonal and uses only the finest of local and ethically sourced ingredients. They use only the best ingredients, and are fully licensed.
Barefoot Art Food Wine
Barefoot Art Food and Wine have filling mains including steak, duck, seafood platters and more. There is a lovely seafood chowder. There is local cuisine, fresh seafood, Australian, vegetarian friendly and vegan options. Special occasion dining is available. This restaurant showcases top artists and talent and is great for romance with a beautiful view. Groups and business meetings are popular here too.
Mamma Roma
Absolutely delicious pasta and Italian food! Situated on The Esplanade in Picnic Bay, this BYO restaurant is owned by an Italian couple. Traditional quality Italian products are served. Everything is always fresh and always delicious.
Maés Filipino Cuisine 
Asian Style food with some Aussie favorites, They deliver to most parts of the Island  
Shaka
Shaka is great for cheap eats. Located in Nelly Bay this health food restaurant and coffee shop has organic food, fresh juices, raw treats and delicious coffee.
Thai Again
Cosy and casual, this is a great restaurant for the whole family. They serve lovely food at reasonable prices. Delicious authentic Thai cuisine that is 100% fresh.
Broadwalk Restaurant and Bar
Overlooking the marina, the Boardwalk restaurant is located in Peppers Blue on Blue Resort. It has an ultra-modern atmosphere. There is a great wine selection and fresh tropical menu.
Man Friday
Love Mexican? Man Friday is the place to eat! Dine alfresco on authentic Mexican cuisine in a great Mexican setting. International menu choices are available too.
Marlin Bar & Bistro
Situated right on the beachfront this is the place to go to for cool drinks and great value meals. There is a relaxed atmosphere and beautiful views.
Bookings are recommended, although not always essential.
Sandi's On Magnetic Island
Great food and friendly staff. Mouth-watering dishes of all cuisines served beachfront. All you can eat and drink buffet. Highly popular!
Take advantage of the great dining opportunities on the beautiful Magnetic Island, and keep up with all the amazing things to do at Magnetic Island Online.